STLCutter 2 - Day 18
Unfortunately, I'd left the wheels at home, so I decided I would just paint it today. There is a proper spray paint system at Alanco, but I'd need to strip it down completely, let them spray it, and then re-assemble it. This would take a couple of days (the Z-axis would be the most complicated, since it's basically just bolted together).
So, I decided to paint it by hand - although the side-guards would be spray-painted (they were doing a chassis in the afternoon, and mine would be done at the same time).
I started with the Z-axis steel: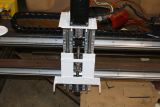 And then I spent the rest of the day doing the rest. It's not a perfect job; I don't need it to be. It's mainly just to slow the appearance of rust. There are some runs, a few gaps (mainly because I also left my fine paintbrush at home, and had to make do with a 40mm and 20mm wide pair) and some bits will need a second coat (which I'll do the next Saturday I'm down there).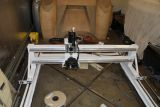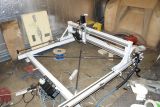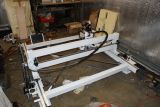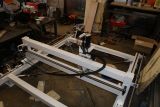 One problem I had was the dust from the previous experiments with the cutting - it got everywhere, and no matter how many times I tried to remove it (with thinners soaked rags), it still stayed there. Some of it tainted the surface, but the second coat should sort that out.
I'm fairly happy with it; I'll be happier once I've done the second coat though!
Date last modified: 2019-10-26 21:20:44