Lighting Lego
A while ago, my brother asked me to make some panels to light up some Lego models he'd made. I designed a PCB which had holes in the right places to be mounted on Lego bricks.
I found the pictures while looking for the images underneath this...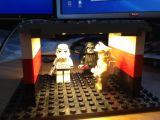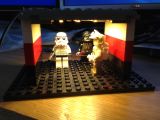 Light sabres
After doing that, I had a thought: Could I light up a light sabre in the hands of a minifig?
After a bit of carefull drilling and soldering thin wires to a surface mount LED, I had something working:






And in the dark, it's even better!

There was just something missing - ah yes, an opponent!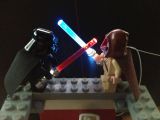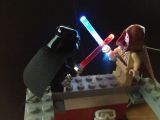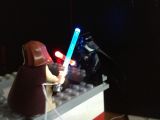 The last picture you can see the wires coming out of Obi-Wan's sabre.
Also, the ledge they're standing on is the frame from the lighting panels...
Date last modified: 2019-10-20 07:57:59